(NEBRASKA CITY)— During the waning days of the volleyball season, Mackenzi Berglund joined her high school teammates on the practice court, smiling and high-fiving, partnering for hitting drills and chasing loose balls.
After practice, the 14-year-old went to a team dinner. After summoning her mom by text message, she headed to the family's tidy home and her bedroom, its aqua walls adorned with inspirational sayings and photographs, the closet full of clothes — all typical teenage stuff.
But photographs taken more than a year ago show a different Mackenzi, a girl who weighed about 120 pounds more than today, a girl who peaked at about 360 pounds around age 11. Then, her closet was full of medical supplies needed to treat the conditions that accompanied her severe obesity: Type 2 diabetes, pulmonary hypertension, the beginnings of fatty liver disease and obstructive sleep apnea so severe, it required a tracheostomy and a ventilator to help her breathe at night.
 –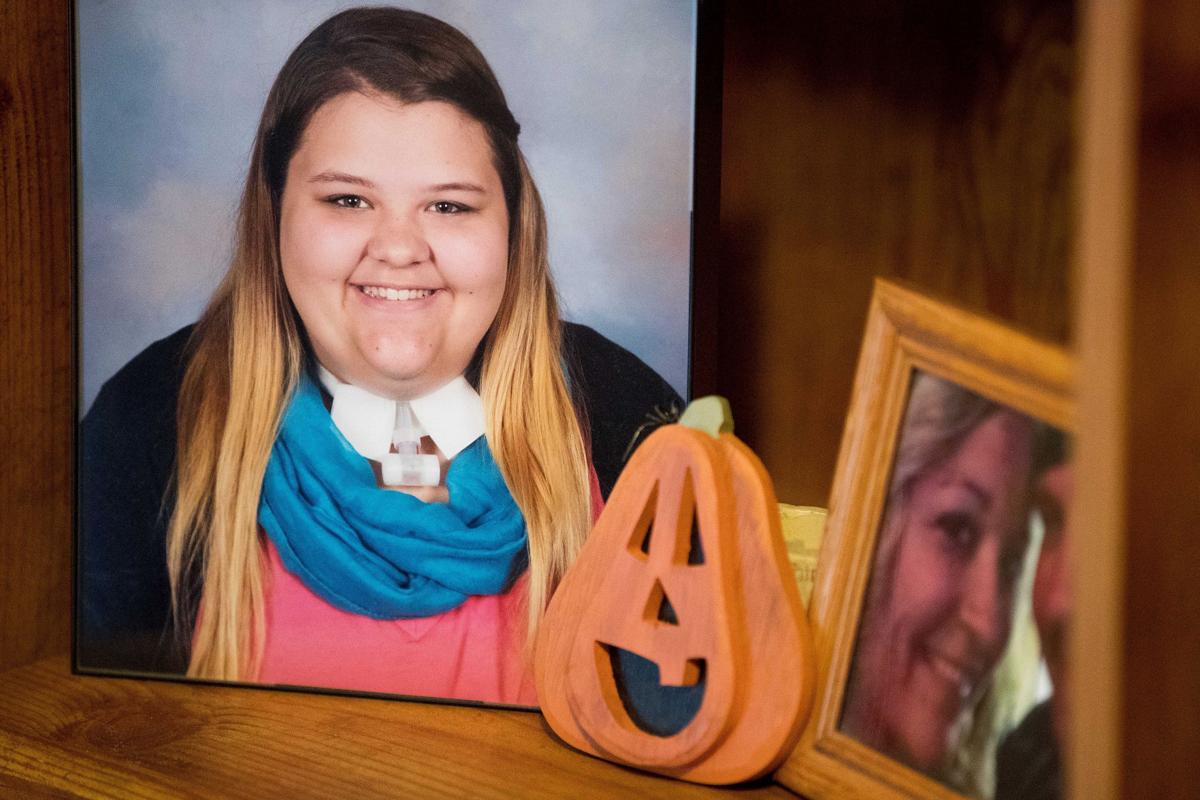 A little more than a year ago — Oct. 27, 2015 — Mackenzi underwent bariatric surgery at Children's Hospital & Medical Center in Omaha. Her stomach was stapled and shrunken, reducing the amount she could eat and helping her feel fuller faster.
Before surgery, since late 2013, she'd participated in HEROES, the hospital's medically directed, multidisciplinary weight-management program, and had lost 15 to 20 pounds. But the HEROES team and her doctors were concerned it wasn't enough — and not fast enough — to head off the medical conditions that threatened to carry over into adulthood and shorten her life.
"We were convinced she needed to do this or she wasn't going to be with us," said Dana Hoover, Mackenzi's mom.
The HEROES team at Children's realized early on that surgery would have to be an option for some patients, including Mackenzi, for whom more traditional weight-management programs hadn't proved effective. It's a conclusion experts at a number of children's hospitals across the country have reached and one reflected in the approximately 1,000 bariatric procedures performed annually in adolescents nationwide, with numbers rising.
For Mackenzi and her family, the surgery has been nothing short of life-changing.
The liver disease improved with the weight Mackenzi lost before surgery, and the diabetes and other conditions resolved afterward. Doctors removed her tracheostomy — a tube inserted into the throat to help with breathing — in June, in time for Mackenzi to take her first underwater dip in a pool. She participated in track and field last spring, and she now can run after loose volleyballs and shop at the same teen-friendly stores her friends frequent.
"She can be a kid now, and that's probably the most exciting thing," Hoover said. "She can be a 14-year-old girl." Mackenzi's weight now: 244 pounds.
+13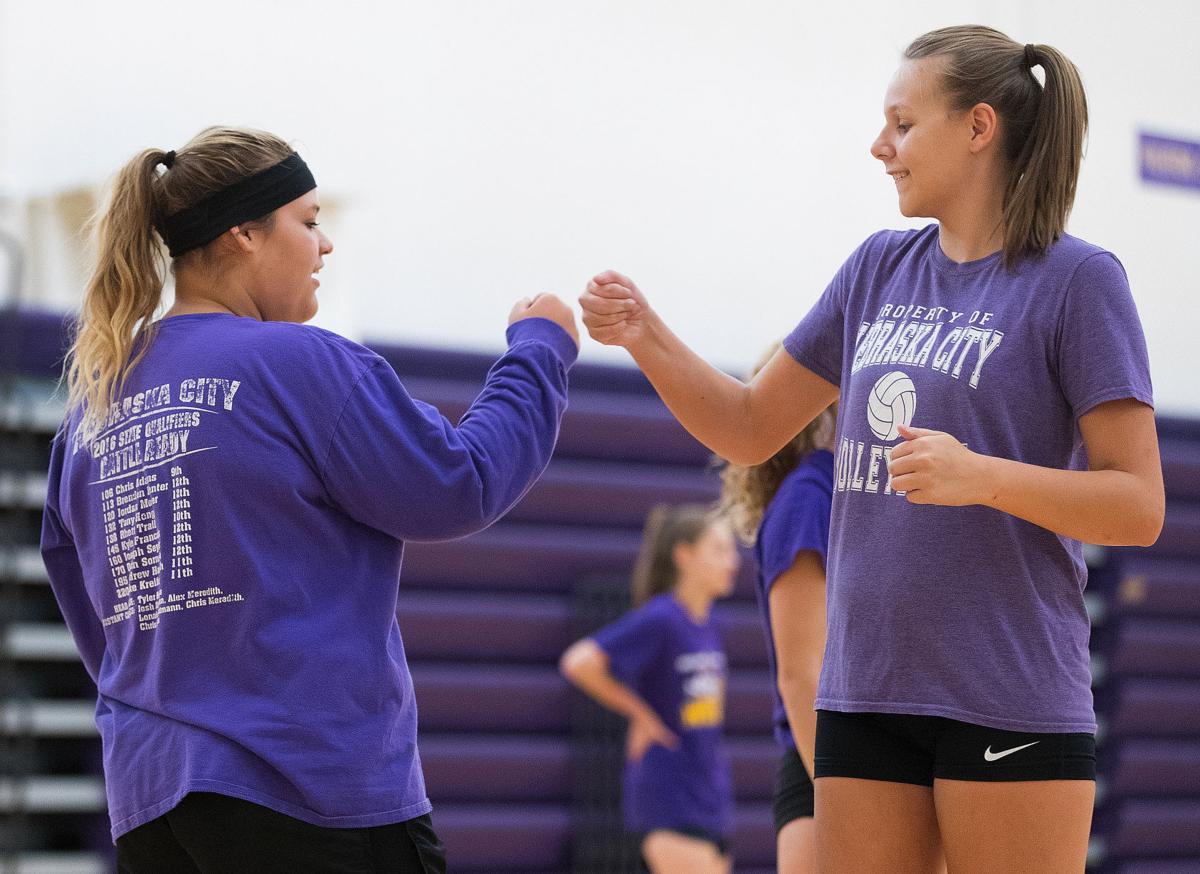 Meantime, Children's Hospital has been on a journey of its own, one that mirrors the nation's battle against childhood obesity.
Children's long has championed prevention. It started HEROES, or Healthy Eating with Resources, Options and Everyday Strategies, in 2009; the program offers both a clinic that addresses obesity-related illnesses and a 12-week intensive exercise and educational program for families.
Dr. Cristina Fernandez, a pediatrician and HEROES's medical director, is widely known in prevention circles statewide. The hospital provides obesity-prevention grants to communities and supports an online exercise program used in schools.
But a small number of kids — for a complex set of reasons — need another option, said Carly Frost, a nurse practitioner at Omaha Children's and bariatric surgery coordinator for the HEROES clinic.
"These kids get to a point where they're so obese that losing significant weight through diet and lifestyle changes just isn't going to be enough for them to get healthier," she said.
Dr. Robert Cusick, a pediatric surgeon at Children's, began performing the procedure in 2014, working with an adult bariatric surgeon.
"You can see how long we waited," Cusick said. "That's how it should be: aggressive medical management and prevention, with surgery as a last resort."
So far he's done eight, with three or four more likely this year. His latest patient was Enrique Cabrera Jr., a 15-year-old from southwest Iowa.
Enrique had lost about 15 pounds through diet and exercise, putting him at about 334 pounds. Frost said he had plateaued and still had Type 2 diabetes, obstructive sleep apnea and high cholesterol, a risk for future heart disease. Two weeks after surgery, he was down to 305 pounds, with more weight loss expected to follow.
+13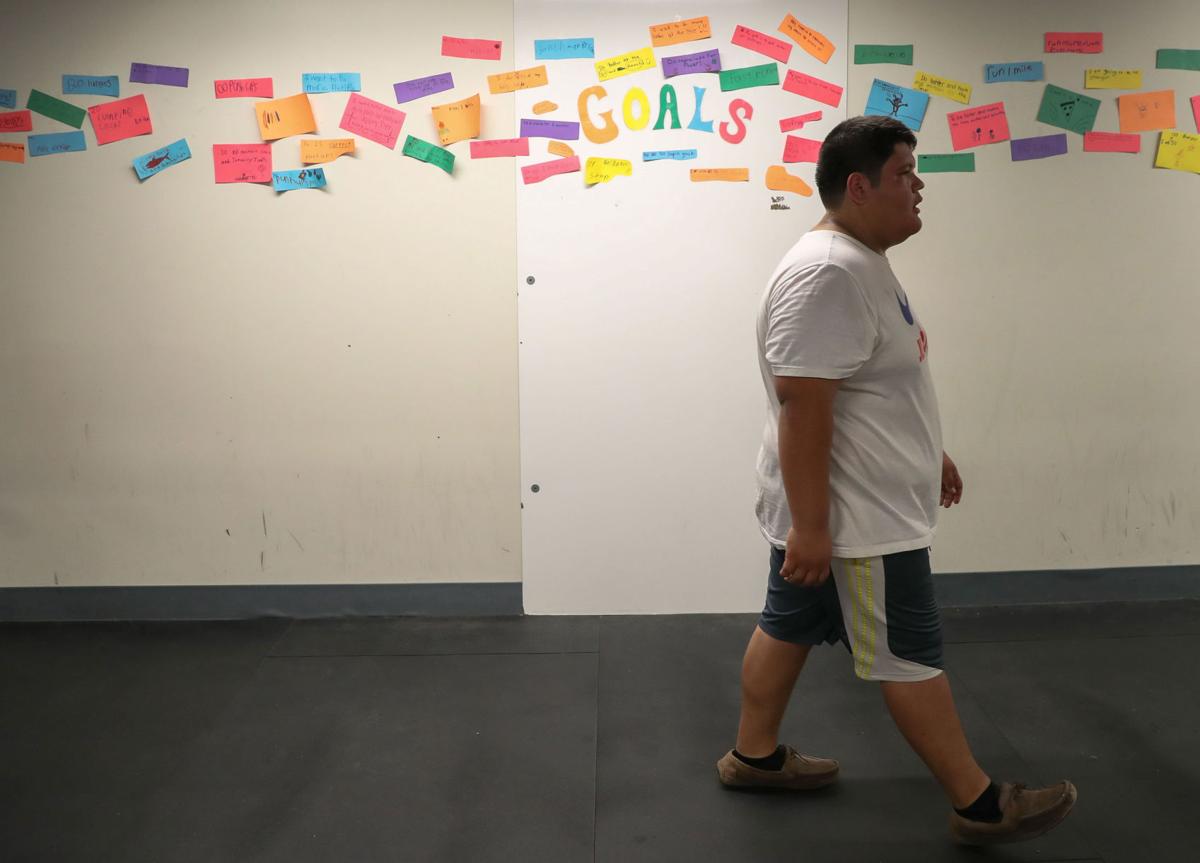 Enrique, or "Ricky" to his friends, said he looks forward to shedding his health problems and to playing more sports.
"The main thing is a new me," he said. "I've never been normal. I've always been big, or hefty."
Dr. Thomas Inge, professor of surgery and pediatrics at the University of Cincinnati and Cincinnati Children's Hospital, said some bariatric surgeries were performed on teens in the '70s and '80s. Then there was a hiatus.
In 2003, Virginia researchers published a paper concluding that bariatric surgery in adolescents was safe, produced significant weight loss and corrected obesity-related conditions.
After climbing over the past 30 years, the prevalence of childhood obesity in general has remained relatively stable over the past decade, at about 17 percent of the youth population. But the number of severely obese children has continued to rise, now affecting up to 6 percent of children and teens in the United States.
In 2004 Inge and others published recommendations for doctors considering bariatric surgery in adolescents. For extremely overweight youths who have failed organized attempts to lose weight and have life-threatening conditions, they wrote, surgery "may provide the only practical alternative for achieving a healthy weight and for escaping the devastating physical and psychological effects of obesity."
Children's Cincinnati started its own bariatric surgery program, now one of the nation's largest.
With funding from the National Institutes of Health, Inge and other researchers at Cincinnati Children's and four other hospitals followed 242 adolescents who'd undergone bariatric surgery.
They published a first batch of results in the New England Journal of Medicine in 2015. Three years after surgery, they found mean weight reduction of 27 percent as well as marked improvement — even remission — in obesity-related conditions such as Type 2 diabetes and high blood pressure, as well as significant improvements in quality of life. And the rate of complications was relatively low.
Inge and others recently compiled newer data pushing the timeline out even further. Cusick said the three-year data provided long-term evidence supporting the procedure in teens, which he acknowledged still is controversial in some circles. Even some of his friends, fellow doctors, have questioned the procedure — until he shares the data.
"We're not in the business of convincing people to have surgery," he said. "Our job is for those unique kids where there's no other option … to offer them therapies that can give them the lives they have never had. If they choose not to, we'll support them in whatever way we can."
Dr. Stephen Daniels, who also was involved in writing the recommendations, agreed that preventing obesity is the best approach. More work, he said, needs to be done on that front.
But some children and adolescents seem prone to developing obesity and have proved very difficult to treat any other way, said Daniels, professor and chairman of the pediatrics department at the University of Colorado School of Medicine in Aurora. Children's Hospital Colorado in Aurora is expanding its bariatric surgery program.
In most patients at Omaha Children's, the team has used a laparoscopic procedure — entering the belly through five small holes — called a gastric sleeve. A surgeon staples across the stomach, making it into a tube, and removes about 90 percent of it. The procedure appears to have fewer complications than other commonly used bariatric procedures, Cusick said.
Fernandez, the HEROES program's medical director, stressed that surgery is not for every overweight child — nor is it a quick fix.
The clinic gets referrals for about 100 patients a month but eventually sees between 30 and 40 percent who commit to it, Fernandez said. The team refers at most 1 percent of those patients for surgery.
The average BMI — the relative measure of height and weight — of the patients who have undergone surgery at the Omaha hospital is about 50. The national guidelines, which Children's follows, suggest doctors start considering the procedure at a BMI of 35, considered severe obesity in adults, if the patient has serious weight-related health issues, and a BMI of 40 without them.
"We know that it's a good option in the right patient," Fernandez said. "We're just not doing it for anyone who says they want bariatric surgery."
Surgery candidates must participate in HEROES for at least six months. Most insurance companies, too, require six months of participation in a medically managed weight-loss program.
Frost, the program's surgery coordinator, said insurance companies are becoming more willing to cover the procedure, but it can be a battle. It took a year in Mackenzi's case. Ultimately, Medicaid covered the cost based on Mackenzi's disability.
Frost estimated the cost of the surgery at $26,000. A recent study indicated that the procedure in teens can pay for itself over five years, when compared with continuing to treat their obesity-related conditions.
In Mackenzi's case, medical expenses — including breathing apparatuses, medications and physical therapies — are difficult to calculate but certainly added up, Hoover said. Her morning routine once included laying out her daughter's medications. Hoover got to know medical terminology so well, she became a licensed practical nurse. Now Mackenzi is down primarily to vitamins and minerals, supplements required to make up for having a smaller stomach surface to absorb nutrients.
"This is what we did, and now we don't," Hoover said.
+13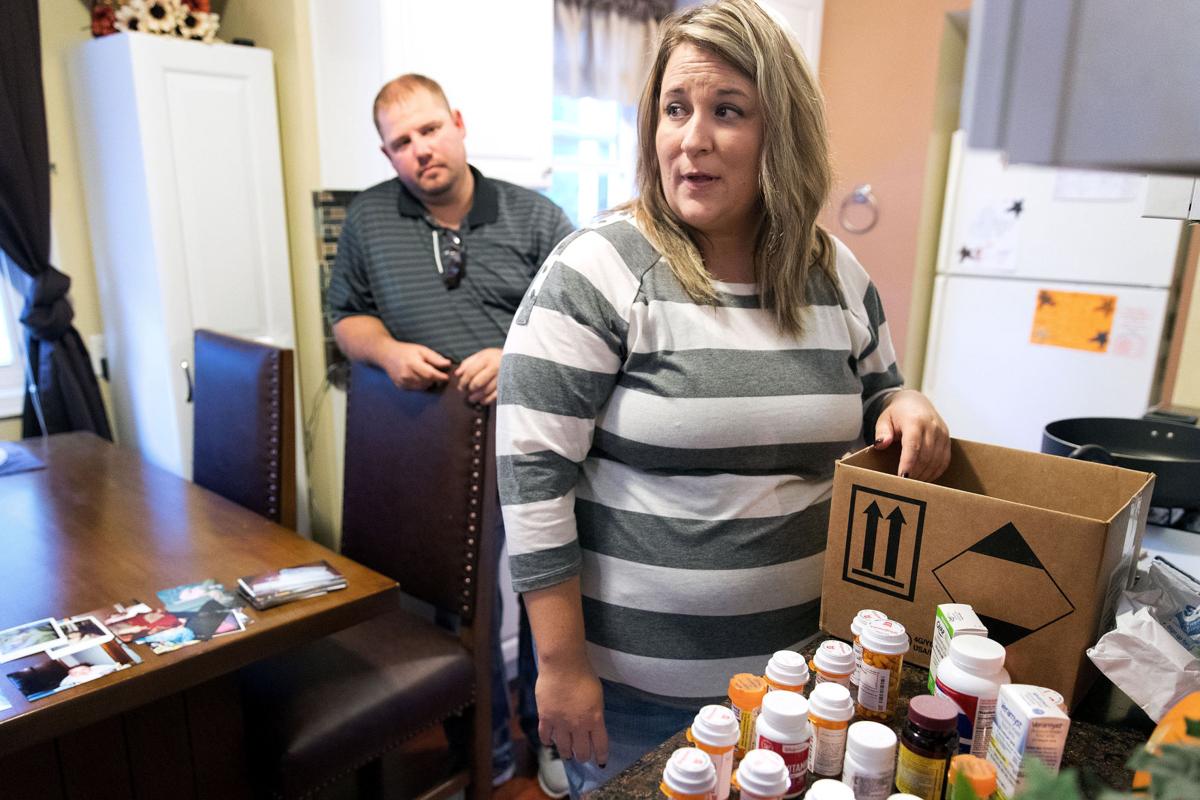 To be eligible for surgery, youths also must go through a psychological evaluation and a sleep study. They must demonstrate the ability — and the commitment — to maintain healthy lifestyle habits involving diet and exercise before and after surgery. And they must have family support.
Fernandez said the causes of obesity are complex, weaving together societal, biological and environmental factors.
Genetics also plays a role. The day Mackenzi was to go home after her surgery, Frost delivered the news. Test results indicated she had a mutation in the MC4R gene, an important regulator of energy balance, food intake and body weight. Mutations to the gene are the most common form of single-gene obesity and have been implicated in early-onset severe obesity. But mutations in the gene still are rare. A Children's geneticist confirmed that her best option was bariatric surgery.
Hoover, for her part, had been seeking some way to explain Mackenzi's condition for years.
+13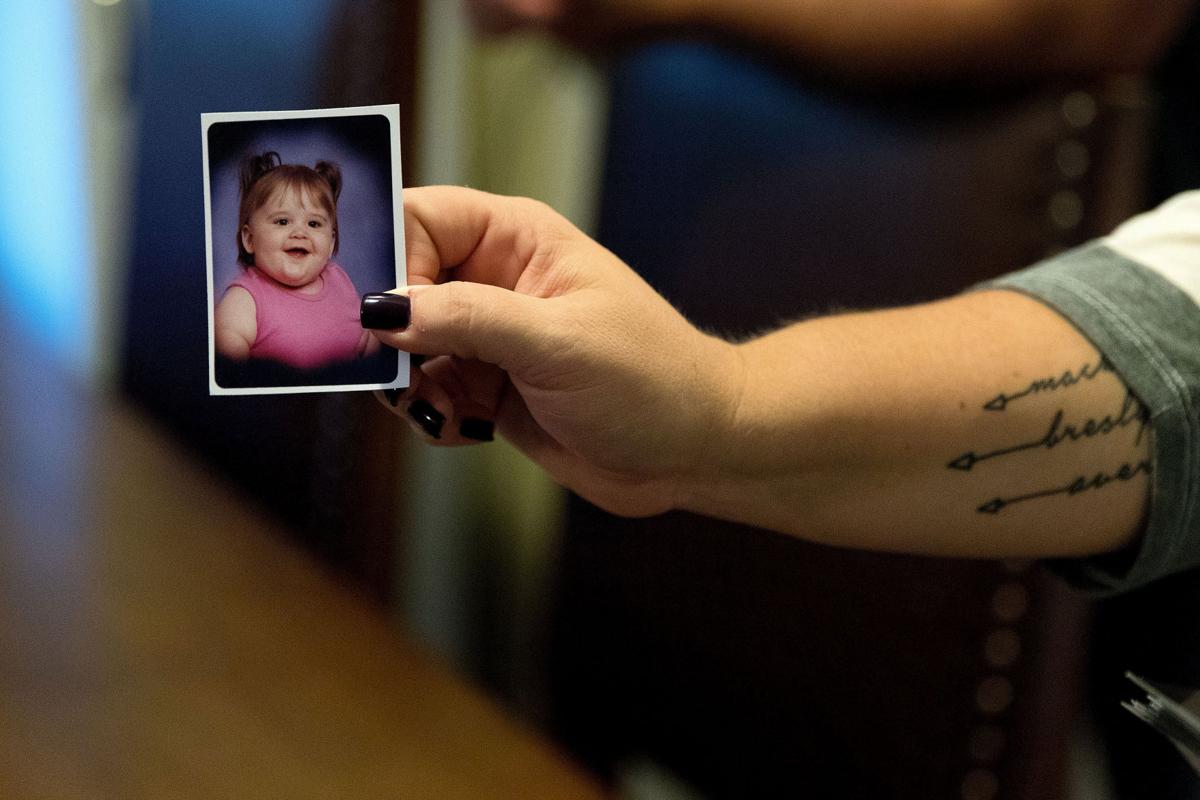 Mackenzi was born a relatively average-size baby at 7 pounds, 10 ounces. By age 2 she weighed 72 pounds. At age 4 she reached 96 pounds. Mackenzi's head circumference and height were ahead of the curve; she lost her baby teeth at age 3 or 4 and got her 12-year-old molars at age 6.
At 3 she had the usual combo of kid surgeries — tonsils and adenoids out, ear tubes in — plus a not-so-typical twist. Mackenzi breathed so loudly at night that Hoover could easily hear her. But then she'd stop, finally gasp for air and start breathing again. So Mackenzi also got a tracheostomy and a ventilator to address her sleep apnea, a condition that can affect long-term health and performance in school. In her case, it led to pulmonary hypertension.
Mackenzi tried diet and exercise plans and eventually HEROES.
The team began talking about the possibility of surgery when she was 11 and approved it when she was 12. She had surgery at 13, Children's youngest patient so far. Mackenzi said she just accepted that she needed to have the surgery. "I can do more now than I could ever do before," she said.
She now eats the same portions as her 8-year-old sister. Frost said her smaller stomach sends fewer hunger signals to her brain; her genetic syndrome caused excessive hunger without her feeling full.
Frost said her demeanor also has changed. Before, Frost said, Mackenzi didn't talk much and often looked down at the floor. Now she smiles and chats.
You can read the rest of the story at www.omaha.com
Leave a reply →